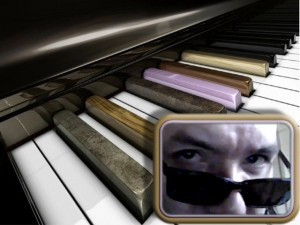 Cyprian Kane is an American born Composer, Writer, and Performance Artist. He was born in Pontiac Michigan. He began performing live onstage at the age of five, with his father, (Larry Wayne Buchanan), in the band "The Shadows of the Past".
At the age of nine, Cyprian began training in gongfu, and its other forms. This was the same time that he began to realize a life in music and art was his path and journey. These two things, and his religious sojourn, have remained as the major factors, or themes in his life and in his development. Although karate and gongfu were originally used as a means of self-defense, it would become much more of a transcendent art, and therapy, and a means of peace in life, and self-development.
As a teenager, he began to form his own bands, and perform his own original music and verse. As many bands as he formed in those days, just as many were cast asunder. They all came and went, but the music remained. The next several years he continued playing as a one person show in coffee houses, events, gatherings, and any other venue that would have him.
In 1997, Cyprian's father died at the age of 46, after a long battle with prescription drugs and alcohol. This was a tragic event and a turning point in the life and art of the young artist. His grandfather died from a gunshot wound while his father was in his early twenties. This sad event always tormented his father, and had a deep impact on the course of his life. His father had also been diagnosed with Bipolar disorder, although back in those days such a diagnosis carried with it a stigma, more so than today.
What followed was a divorce from Cyprian's first wife, (whom he had married at age 19), and a change in his religious affiliations, which had looked down upon his vocation in music as immoral and deviant, and putting too much emphasis on the 'things of the world'. His father's death helped him realize that he was in a strict, erroneous cult, and a dysfunctional marriage,
Though the church elders discouraged his musical path, he continued in spite of their heavy criticisms. He would work in factories by day and compose at night, performing whenever possible. A production company signed him to an artist development contract at the age of 20, but again, the heavy hand of the cult resulted in its dissolution.
This did not make him bitter toward God, but perplexed, as how to proceed for a time. Freed at last from the blind guides of the cult, he determined to never look back.
What followed was a period of disillusion, iniquity, self-destructive behaviors, and then, finally, a renewed search for the truth of the Christ.
In 2000, Cyprian met a person who would become a great supporter and wonderful family member, Sacha A. O'Kane, through a mutual friend. At the time she was a manager at a major retailer. Before long she began to manage Cyprian's career for a time. After working with many bands and musicians, the act moved down south; and in 2005, resumed the solo performances.
During this time, Cyprian went through three periods of homelessness, and many difficulties and set backs. Having been diagnosed with Bi-Polar and O. C. D., (obsessive compulsive disorder), these also contributed to the struggles along the journey of life.
In 2010, Cyprian Kane made his first television début, on the ABC regional morning show, "Your Carolina", in which he played the song "Easy Rider", an original tune. At the time, he was homeless, and soon after, Sacha and Cyprian, (who had since found out they were cousins through their grandparents, and had become as close as brother and sister), landed a job at Mt. Pisgah for a season as housekeepers. This job provided room and board, and through that season they saved all their money for a tour bus.
With the resounding success from the television performance, four more offers for television appearances poured in, from Kentucky, Georgia, and both North and South Carolina. These were to commence in January of the following year. With the close of the season at Mt. Pisgah in November of 2010, they decided to go down to Florida and play the streets of Ft. Lauderdale and Pompano Beach, and other parts of Florida. Hard times hit the two again, as the tour bus died shortly after arriving, and it took all their savings to repair some of the damages.
Once again, they were homeless, and living in the van, going from parking lot to parking lot to sleep in the nights, and occasionally sleeping by the ocean. On the streets of Ft. Lauderdale, a documentary crew noticed Cyprian playing and recorded a live performance of "Thinking about You", A ten minute interview followed in which the artist spoke about street performing, and the difficulties that accompany a life in the music business. Tentatively, the film makers were going to call their documentary "Breaking in".
Soon, the two were able to save enough money to move to St. Augustine, and started staying in a motels. With the tour bus on its last legs, and with no money, unfortunately, the television appearances couldn't happen; and it was back to playing on the streets. But even harder times would soon follow.
In May of 2011, Cyprian's younger brother, James Aaron Buchanan, (aka "Jimmy"), died of a heroin overdose at the age of 29. In the wake of this tragedy, Cyprian and Sacha scraped together all they could to make the trip home, to Michigan, and back to their shared birth city.
After his return, he played only one show in Royal Oak that year, (which they taped), and after that took a step back to concentrate on writing, composition, business affairs, and developing the first official Cyprian Kane website. This was a much-needed time of solitude, and a time of reflection, mourning, and growth in music, art, and spirituality.
In May of 2012, www.cypriankane.com was launched, and the first official independent release "Amalgam" became available to the public shortly thereafter. In 2013, "Radio Drive" followed. In 2014, the third and final volume in "The Underground Years" series, "Ellipsis", became available to the public.
The Cy-Times Gazette began publishing articles in 2013. As of 2015, it has become a featured blog on "The Oakland Press" website, with notices occasionally in print. The gazette deals with articles from a range of subjects, in both the fact & fiction genres.
Cyprian Kane became a baptized member of the Greek Orthodox Church in July of 2014. Cyprian works and lives in Michigan with his family.