The Great Michigan Mysteries Series-
The O. C. C. K. Case:
Part 2
"The Abnormal Suspects"
"This is a mystery. Unlike a movie, or a work of fiction. We cannot wrap this tragedy into a bow at the end…the killer has never been brought to justice."
Perhaps he has died, by suicide…Christopher Brian Busch
On November 20, 1978, Officer McNamee of the Bloomfield Township Police Department went to 3310 Morningview Terrace to check on the welfare of Christopher Busch. Christeen Bracken, (the maid), had become concerned when she was unable to gain access to the house that Christopher shared with his parents who were away in England at the time. She went next door to a neighbor, who called Charles, (Christopher's brother), who called the Bloomfield Township Police Department. The officers made entry into the home, where they found the body of Christopher Busch lying on his back in his bed, and in his bedroom. He had a bullet in his forehead, and a rifle was lying next to his body. It was later determined that the deceased had committed suicide.
Christopher Busch was not unknown to law enforcement. He was a serial pedophile, at the age of 27, having been convicted of sexual crimes with minors multiple times. Not only was Chris known to the police, he was also a suspect in the O. C. C. K. case. His fellow associate and pedophile, Gregory Greene had told police that Busch had killed Mark Stebbins.
On January 25, 1977, Flint PD contacted Southfield Police Office Lourn Doan, (a member of the O. C. C. K. task force), and advised him that a subject they had arrested for Criminal Sexual Conduct with a minor had information about the person who killed Mark Stebbins. This led Doan to an interview with Gregory Greene. Greene told Doan that he believed a man named Christopher Busch had murdered Mark. Doan noted in his report that both Greene and Busch were sexually involved with young boys, (Southfield PD report 76-3079).
Following up on this tip, on January 28, 1977, Detective's Doan, Cattell, (from Ferndale), and Flint officers Waldron and Rivard interviewed Busch. Greene, Busch, and Douglas Bennett, (19 at the time), were all under arrest. He admitted to being a pedophile, and liking young boys. During this interview, Busch told detectives that he and Greene had discussed and planned how they would kidnap, hold and molest young boys. Busch stated that he and Greene agreed that one would work days and the other would work nights, so that one of them would always be with the kidnapped child. Busch further described 3 locations where he picked up young boys in the past. The locations were as follows: 1) 9 Mile and Woodward in Ferndale; 2) 13 Mile and Woodward in Royal Oak; and 3) 12 Mile and Greenfield road in Berkeley, (more specifically, Hartfield's Bowling Alley and the 7-11 party store located directly across the street.
At the time of the interview, (7 days after Kristine Mihelich's body was found), Timothy King had not yet been abducted.
It is of interest to note, that the three locations mentioned by Christoper Busch in his interview, also correspond, in exact order, with the first three abduction sites of the known O. C. C. K. victims, ( Mark Stebbins, Jill Robinson, and Kristine Mihelich, respectively). In the last instance, Busch mentioned two places directly, ( Hartfield's Bowling Alley, and the 7-11 across the street), which were the last sighting locations of Kristine.
Both Greene and Busch were given a bond of $75,000.00. Greene's bond remained that high, and he was later sentenced to life in prison. Unbelievably, though, Busch's bond got reduced to a measly $1,000.00. He was later sentenced to 5 year's probation, and $2,400 in court costs. Despite two previous convictions, Busch was given no jail time.
Less than two months later, someone abducted Timothy King on March 16th, 1977, and his body was found 6 days later. He was last seen talking to a man roughly matching Chris Busch description, by a blue AMC Gremlin, with a white stripe. Christopher Busch drove a blue Vega hatchback, with a white stripe.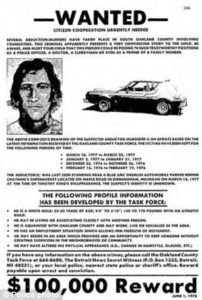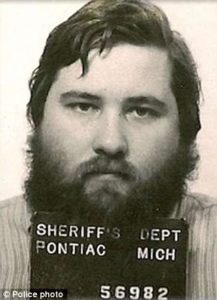 The scene of Christopher Busch suicide was gruesome, but also telling in the clues that were seemingly staged about. Just as his interview had described the exact modus operandi that the O. C. C. K. used, as well as the locations, (detailed precisely and in order), of the known abductions connected to the case, so the site of his death also appeared to spell out an admission.
The screaming boy. On the wall of his bedroom was a sketch of a boy with a hood on, caught in the middle of a horrifying scream. It looked eerily like Mark Stebbins.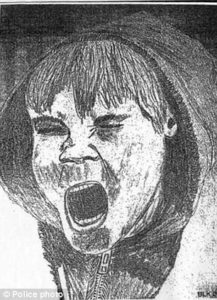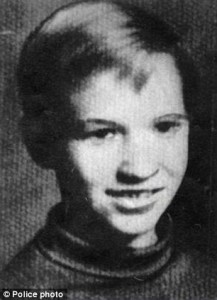 Ropes that looked stained with blood on the floor.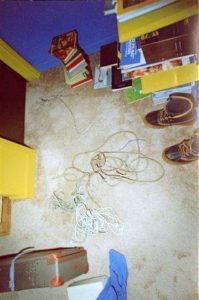 Shotgun shells, such as that used on Jill Robinson on the dresser.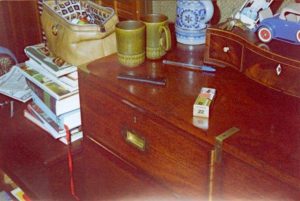 Charles Busch, Chris' brother stated that at the time of his death, Chris parents had a white Welsh Terrier. This is of interest because all the bodies were found with white animal hair on them. He also had a light tanned dog, and a color of carpet in his room that was consistent with fibers found on some of the bodies.
In the end, the suicide itself is telling. A young man of privilege. a serial pedophile. A man who had talked about suicide days before with a friend, (even showing marks on his wrist and laughing it off), and having walked away from jail time, supposedly taking his own life. Was this guilt or a setup?
In fairness, Busch had four more cases looming over his head, when he took his own life.
Either way, the killing's stopped. The killer was gone from Oakland County. The boogeyman babysitter killer had in some way moved on or was in repose.
Perhaps he has died, by murder… A letter from Allen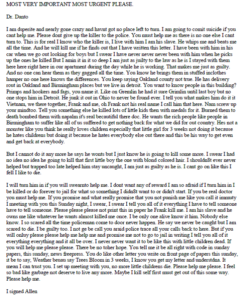 On April 5th, 1977, Dr. Bruce L. Danto received a letter dated April 4th, (mailed from Detroit), by a person identified only as "Allen". Dr. Danto, a Detroit psychiatrist, had been working with the O. C. C. K. task force. He had also come to believe that the killer was trying to communicate with him since one of the bodies, (that of Kristine Mihelich), was found on Bruce lane.
The letter was a long, misspelled, incoherent, guilt-ridden, and fearful plea to the Doctor from someone who confessed to being an accomplice and roommate to the Oakland County Child Killer.
In it, Allen referred to the killer as 'Frank', and offered details of his life, his whereabouts, his occupation, his conveyance, motives, and the nature of their relationship. He also states that Frank is not his real name, but just the name Allen chose to use in the letter.
Frank and Allen had a slave and master relationship, in which Allen was completely controlled by Frank. He was regularly beaten and whipped, and completely owned by Frank. The two had served together in Vietnam, and were both 'screwed' in the head, as a result of the traumatic experience. Frank had killed 'lots of kids' and got medals for it. He had completely burned them, and bombed them with napalm. Then oddly, Allen says it was really beautiful there.
Allen describes Frank as a lover of children, and not a monster. He claims that Frank committed the murders to get back at people in the wealthier cities like Birmingham, so that they could suffer like Frank and Allen and others suffered for their country, and got nothing back for their sacrifice. He adds that Frank especially liked Kristine, the 'little girl for 3 weeks', as he described her.
Allen stated that he and Frank lived in an apartment in Detroit, with pimps, hookers, and a seedy element in the same building. He says the cops never stop them there, but he is always afraid the police will come to their door. He claims that Frank brings the children in a 'stuffed clothes hamper' and no one knows the difference.
Throughout the confessional Allen continually insists that he is just as guilty as Frank, and for several reasons. He claims that he was with Frank when they searched for boys, but was never with Frank when he abducted the ones he murdered. He says that he watches over the victims while Frank is at work, (at his delivery job, with a route in Birmingham and Oakland County), and he helps Frank stay undetected. Allen says he is the only person alive who knows that Frank is the killer.
Allen said that police were right about the AMC Gremlin automobile, but that Frank had never been stopped by police, and has since discarded the vehicle, in Ohio, where it would never be found.
Allen is in a profound state of pathos throughout the letter, referring to suicide several times, and describing himself as a 'piece of garbage' that doesn't deserve to live. He says that he had no idea that Frank would murder the children, and that he had become 'trapped', or caught up in the crimes, and never intended any of this to happen. He claims he just wants it all to stop. Allen says he is afraid of many things; Frank, the police, more murders, jail, and death. He is absolutely tormented.
He concludes the letter by asking the Doctor for help over and over, and states that if Danto wants to help, he should use a code in the Detroit Free Press. The code was for the Doctor to place the message, "Weather Bureau say Trees bloom in 3 weeks" in the paper. This would alert Allen that Danto could be trusted and would help. But then he still adds, 'maybe will kill myself first, must get out of this some way. Please help me. I signed Allen.'
What followed next was a phone call to Dr. Danto by Allen on April 10, 1977. Allen arranged to meet with Danto the following evening at 9 pm, at the "Pony Cart Bar" in Palmer Woods. He claimed he would bring Polaroid evidence of the crimes, if Danto could provide a letter of immunity from prosecution for Allen, signed by then Governor of Michigan, Milliken.
Allen was never heard from again. The police had taken this particular lead various seriously, spending months on it, giving it a priority above the thousands of others.
Perhaps Frank murdered Allen. It is a mystery what happened to 'Allen', and whether anything he said was true. Dr. Danto certainly believed him, saying 'the man sounded very frightened, not cool and composed', also stating that he did not believe it was a hoax call.
Perhaps he has died by natural causes…Gregory Greene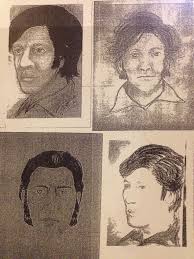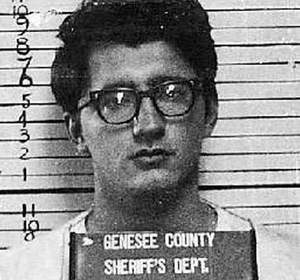 Gregory Woodard Greene was born in Detroit on 5-2-1950, and died on 12-29-1995 at the Thumb Regional Correctional Center. The cause of death was that of a heart attack. He had been watching television at the time of his death.
On 08-08-1974, authorities convicted Greene of Felony Child Molesting, Sodomy, Sex Perversion in California, and given 5 years probation. This was not his first time having been in trouble with the law. Before this, he had been in trouble for various other offenses. He was a patient at the Patton State Hospital in Patton, California, from January 24, 1975 to January 7, 1976. He arrived back in Michigan just days before Mark Stebbins abduction.
On January 25, 1977, Flint police arrested Gregory Woodard Greene, Christopher Busch, and Douglas Bennett, (the youngest of the three men), on allegations of forcing boys to commit sexual acts. This investigation would later expand to include scores of young victims, (as many as 75 boys). They accused the men of using gifts, threats, and physical force to persuade more than 30 boys to engage in sodomy, oral sex, and lewd photography sessions. Busch and Greene were both given a $75,000 bond, whereas Bennett was held on a $15,000 bond. Greene would go on to convictions of multiple 1st-degree criminal sexual conduct charges in 1977. Sentenced to life in prison, Greene died after serving 18 years of his sentence.
After his initial arrest for Criminal Sexual Conduct with a Minor in August of 1976, Greene had pointed the finger at Christopher Busch as the killer of Mark Stebbins.
According to Busch, in his interview of January 28, 1977, he and Greene had a plan to kidnap young boys. As discussed earlier, they would both get jobs with different shifts, (one working during the day, and one at night), so that they could always have one of them watching over the victims. Greene was in custody at the time of the last abduction, (Timothy King), but he could have participated in the first 3 known abductions, and others that were not counted as O. C. C. K. victims, officially. He was a sick man, and his records describe him as a manipulator, and a person who was intelligent enough to read his situation and the people around him well, and use this to his advantage. At the time of his arrest, he claimed to have a religious awakening, and that, according to him, was why he turned in Busch, and was cooperating. Of course, all he wanted was one more chance to live outside of an institution. The report recommended incarceration.
Greene said that he didn't just pick up kids, but that he formed an emotional bond with them. This is why he said, that he could successfully be rehabilitated through a half way house or some other means, that would not allow him close contact with children. The court disagreed, and rightly so. Although he had discussed the infamous "Babysitter Killer" case with one of his cell mates, this information, and the details were never published. He took his secrets to the grave with him.
It has been forty years since the first abduction in this case. The world of crime fighting has seen great advances in forensic technology, which has brought to light many answers to cold cases all over the world. This case is no exception. In our next article, we will discuss some of the locations and circumstances that have become synonymous with this infamous case, as well as the DNA and other physical evidence. This we will do, in our 3rd and final installment on the O. C. C. K. case, in the Great Michigan Mysteries series. For The Cy-Times Gazette, this is Julius C. Madhouse.