"Great Michigan Mystery Series"
"The Oakland County Child Killer Case"
by
J. C. Madhouse

During a 13 month period that began in February of 1976 and continued until March of 1977, a serial killer was actively abducting and murdering children in Oakland County, Michigan. In an effort to apprehend the unknown suspect, (or suspects), the authorities launched the largest investigation ever in the United States up until that time. A task force formed, with a budget of over $2 million dollars. After thousands of leads, and countless man hours, the task force disbanded in 1978.
Although there were several strong suspects in the case, no one has ever been charged. The story remains one of the greatest Michigan mysteries of our time.
The murderer first became known as the 'Babysitter Killer', because of the amount of time that he would keep his victims, and the care with which they were given. The killer cleaned and pressed the victims clothes. He, (or they), manicured the victims.. Later, the case became known as the OCCK case. This was an acronym for the Oakland County Child Killer. Although there were many victims in the area at the time that could be included in this article, we will confine ourselves to the confirmed victims of the malevolent and disturbed, O. C. C. K. case.
Mark Stebbins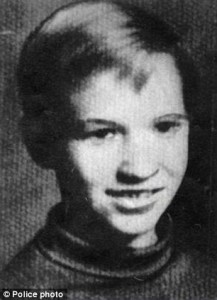 On February 15, 1976, 12-year-old Mark Stebbins, (a 7th grader at Lincoln Junior High School), was playing a game of pool at the American Legion Hall in Ferndale with his brother Mike, when he decided to walk home and watch a movie. His mother Ruth was also present at the hall. She said that he had wanted some money that day, which she would not give him, because he had already had his allowance. She mentioned that he didn't seem mad, but that he said,
"I'm going to go home and watch that movie".
That was at about 12:25 that afternoon.
He was never seen alive again. The legion hall was about ¾ of a mile from the boy's home on E. Saratoga. The day had been a Sunday, and a full moon. The weather had been foggy with rain. Four days later his body was found in the parking lot of the Fairfax Plaza office building, at 15660 W. 10 mile, (near Greenfield), approximately 4 miles from the site of his abduction.
Mark Boedigheimer, (then age 30), of Southfield, who worked in the Fairfax Plaza office building discovered the body lying in a pile of weeds against a four-foot red brick wall that separates the parking lot from a lot belonging to the Orleans shopping center at Ten Mile and Greenfield.
The killer dumped the body that morning between 9:30 and 11:40 am, and was fully clothed. A pathologist report stated that he had been dead between 12 and 36 hours. The cause of death was asphyxiation. He died from asphyxiation. The killer struck him in the head, and it was also determined that his hands and feet had been bound.
Ferndale Police Chief Donald R. Geary said the killer strangled the boy, possibly more than a day before the body was found at 11:40 am on a Thursday. A witness had passed by the spot at about 9:30 am, and had not seen the body there at that time. The weather that day had been snowy. The killer placed Mark in a snow bank, and evidence showed that he had been bound about the wrists, sexually assaulted, and strangled. Both his neck and wrists had rope burns.
Jill Robinson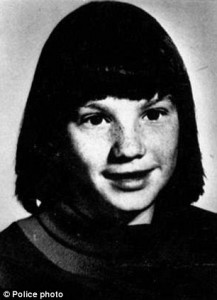 In the late afternoon hours of Wednesday, December 22nd, 1976, 12 year-old Jill Robinson left her home at 1312 Mayfield road in Royal Oak, (where she lived with her mother and 2 sisters), after arguing with her mother over making biscuits for dinner, among other things. Her mother, Karol J. Robinson, was trying to prepare dinner, and get ready for church services, having just come in from Christmas shopping. She described Jill's attitude as, 'I'm not going to help, and I'm not going to babysit, and I'm not going to do anything…and if you don't like it…tough.' Wednesday was normally the day when the father would take the children for visitation, and so, Karol said that she thought that this was also part of the reason Jill was upset that afternoon, and uncooperative. Her father had not been able to pick her up that day.
Jill had refused and her mother became upset with her attitude. Her mother, Karol, told her,
"Why don't you, (if you don't like it in here), go stand outside". Jill then said something about having trouble finding her boots, and her mother said,
"Jill, what I really want from you is communication". Her mother would later point out that what she meant was for Jill to 'just go somewhere and cool out' for awhile. But Jill decided to pack her denim knapsack with a blue and green plaid blanket, and two books, and took off on her bike. Her bicycle was a 20-inch high girl's bicycle, (brand name High Speed), purple with chrome fenders, and a white banana seat. The books she took with her were "Little House on the Prairie", (1st edition, with an inscription), and "Nancy Drew Mystery", which she checked out of the library, but never returned. She was last seen by a family friend at about 7:30 pm, riding her bike near Tiny Tim's Family Hobby Center, at 4400 North Woodward, Royal Oak. Jill's father, Tom Robinson, believed that, (based on where she was last seen), that she had been on her way to his house in Birmingham. Jill was 5 feet tall, 100 lbs., with brown hair and hazel eyes.
The Royal Oak Tribune reported that Royal Oak police recovered the bicycle in the 1600 block of Washington, less than a mile from her home. However, Lt. Earl C. Ringer of Royal Oak, said youngsters living in the area where the bike was found told police that other neighborhood juveniles had found the bike abandoned about 2 p.m., Monday behind the Valenti & Lieberman office building at 1523 North Main, south of 12 mile and ¾ of a mile east of Jill's home. The youngsters said several youths rode the bike before leaving it at the North Washington location. A third report has surfaced in which a witness who claims he is one of the boys who found the bike, (and was 9 at the time), found the bike propped up against a tree, between Vinsetta and Bassett. He further claims that they took the bike to 28168 Woodward ave., in Royal Oak. Each of these locations, (whichever it was), are much closer to Jill's home, (south-east for more than a mile), from where she had last been seen on her bike.
Her body was found four days later, approximately 5 miles from the abduction site, on the northbound I-75 service drive, near Big Beaver, (16 mile road), in Troy. It was Sunday, December 26th, the day after Christmas, when a motorist driving northbound on I-75 saw what appeared to be a body lying on the side of the road at approximately 6 am. He radioed the location on his CB. Troy police, (who monitored the CB broadcast), went to investigate the scene. The motorist in question was never identified.
The day was a cold one, with a high of 31 degrees, and her body was lightly covered with snow. Unlike Stebbins, who the killer strangled, the cause of death for Jill was a blast to the side of the face from a 12-gauge shotgun. However, the 1977 broadcast on WXYZ 1270 "Winter's Fear", (which won a Peabody award), reported this as a 16-gauge. Police determined that she died at the scene. The killer had laid her on her back, and shot her. The shot used was that commonly used by hunters. The time of death was between 3 am, and 6 am. It had begun snowing at about that time, and the snow on the body was about as deep as the snow on the ground.
There were no signs of sexual assault and no signs of a struggle. The body and clothes were clean and well-kept, leading police to believe initially, that she had not been kept against her will. She was fully clothed and still wearing her knapsack. The books were missing.
During the year before her death, an eerie premonition haunted Jill. Her mother described her as very perceptive and very intelligent. Her mother Karol recounted that she would say,
"I am afraid of something." She was clearly worried. "I know this is not logical", she continued, "but I am afraid that somebody is going to come, like, if I am standing on the corner…and come around in a car and shoot me." Taken to a child psychologist for help with this inexplicable fear, Jill's anxiety persisted. One night in December, Karol found Jill on the verge of tears. Her mother recalls,
"I hugged her and held onto her, and we both cried." As it turned out, Jill died in the same manner that she sensed and feared.
Kristine Mihelich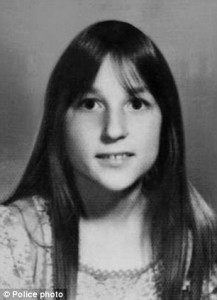 On January 2nd, 1977, just days after the discovery of Jill Robinson, 10 year-old 5th grader Kristine Mihelich went missing from the 7-11 store, at 12 mile & Greenfield in Berkley. Some witnesses claim she was also seen at the bowling alley across the street, where her mother had worked at one time. It was a cold, snowy day, with temperatures below freezing, (between a high of 26 and a low of 19 degrees Fahrenheit).
Her mother Deborah recalls that Kristine had talked her mother into letting her go to the store to buy a teen magazine. Kristine was in the habit of cutting out pictures from the magazines and placing them on her bedroom wall. That day she had run out of pictures and wanted to get some more.
Her mother had been reluctant to let her make the trip, because she would have to cross 12 mile road to get there. But Kristine was very persistent and her mother finally relented. Kristine said she would be right back. The magazine was apparently a "Teen Super Star" magazine that featured Donny & Marie Osmond on the cover.
Her mother said that it was just a 'freak' thing that she had let her go to the store that day. At first Deborah refused, but then, recalling that Kristine had done a favor for her earlier in the afternoon, decided to let her go, feeling she owed her. She explained to her how to stop at the stop light, and later said her main concern was the fact that she would have to cross 12 mile road. The clerk at the store recounted that she had seen Kristine, and that she had purchased a magazine. It was a 5 minute walk from her home on Gardner. Kristine had only $2 in her pocket at the time she bought the teen fan magazine, and her mother expected her to come straight home. Although there was the seemingly conflicting story of Kris at the bowling alley across the street, as the last sighting, the fact remains that she was gone. She had been wearing a baby blue ski jacket, over a white blouse. One news article stated that she was wearing a navy-blue parka and gray jeans when she disappeared.
19 days later, on Friday, January 21, 1977, Jerry Wozny, an 11-year postal veteran, of Walled Lake, was driving on Bruce Lane, (a dead-end), in Franklin, when he saw tracks leading about 6 feet off the road, and what he thought was a blue bundle of clothes or a blanket. He stopped to investigate. It was then that he noticed the knees, and a hand sticking out of the snow. He drove to the nearest police station to report it. Wozny described his discovery,
"I usually look on the side of roads. And I come up, and see the tracks going in, and something blue laying there. So I stopped and I backed up. And I got out of the truck and went down and looked, and I saw the knees, and a hand. That's when I went back to the police station and got Mr. Wilson to come over and take a look."
"I saw a hand," Wozny said. "It scared the hell out of me."
He said the girl was lying in a ditch on her back, fully clothed with her knees drawn up. Snow covered the body, except for the exposed hand and the tops of the knees.
The body's location was in the same general area of where the body of Cynthia R. Cadieux, 16, was found a year before.
Police reported that snow heaped over the body was as if to cover it.
After they cleared away a little snow, Police Chief Frank Wilson said,
"It looked like a little girl." Her arms folded across her chest.
The body was Kristine Mihelich. Cause of death was asphyxia, with no signs of blunt force or trauma. There was no signs of sexual assault. She had been well-kept, (cleaned, fed and manicured), and was fully clothed at the time of discovery. There was no evidence of puncture wounds or mutilation. She was found in the same outfit she wore at the time of her disappearance.
Footprints were found in the snow leading to the body, and back to the roadway where it appeared a car had stopped, police said. Law enforcement took impressions of foot and tire tracks; and photos of the two bumper impressions left in the snowbanks on both sides of the dirt road. It appeared that the car had backed up into the snow bank, and then forward, while turning around to leave.
An autopsy confirmed that Saturday by the examining physician reported there were 'no signs of great force or trauma.'
The community was left stunned. The fledgling stage of a task force had begun to grow in strength and numbers. What was known at that time was that a number of children in Oakland County had died violently in the last year with very few clues, leads, or answers. There was a general sense of panic in the undertow of the consciousness at that time. Growing up in Oakland County it was something that was on the minds of parents and children, always lingering in the back of one's thoughts.
Timothy King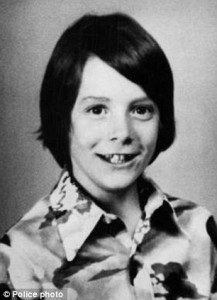 Timothy King was 11-years old, 4 feet tall, 63 lbs, with brown hair and brown eyes. He had discussed the subject of the abductions with his father Barry, his mother Marian, and his siblings, (Kathy, 17, and his two older brothers, Christopher, 16, and Mark 14), saying,
"Dad, if anybody did that to me I would run." He was a 6th grader who liked hockey, baseball and skateboarding. He was personable and outgoing, as described by his father.
On Wednesday evening, March 16th, 1977, Tim borrowed 30 cents from his sister, (at about 8:15 pm), and headed for the Hunter-Maple pharmacy with his football and skateboard. He told his sister that he would be right back, and that he wanted to buy some candy. At about the same time, his parents were sitting down to dinner at a restaurant across the street from the pharmacy. Amy Walters, the clerk who sold Tim the candy, told police that Tim left the store about 8:30 pm through a rear-door that led to a darkened parking lot.
Tim's parents arrived home shortly before 9 pm, and noticing that Tim wasn't home, his mother began calling friends and neighbors to determine his whereabouts. No one had seen him after he left the pharmacy. Later that evening, the parents phoned the police around midnight to officially report that their son, Tim, was missing.
He was wearing a red nylon shirt, dark green Levi corduroy trousers and white sneakers when he disappeared.
Fear of another child abduction in the OCCK case gripped the area. These fears were fully realized the next day, on Thursday afternoon, when in a news conference, Birmingham Police Chief Jerry Tobin confirmed that officials did not believe Tim had runaway, nor had he stayed at a friend's house.
Barry King had said in a plea to the kidnapper at this conference,
"We love him very much. Uh…wherever he is at, and whoever he is with. We want him back home."
As Friday evening past, his father said further,
"Well, I want to say hi to Tim. Uh, we love you Tim. God bless ya'. Stay tough. Uh, if you miss the little league try outs tomorrow, Mr. Rider said you can try out next week. Say your prayers and we're with you buddy."
His mother also mentioned in the press conference that when Tim came home, she would have his favorite meal, which was "Kentucky Fried Chicken", waiting for him.
Tim would never be able to try out for little league again.
On Tuesday evening, March 22nd, a motorist, Les Davis, traveling south on Gill road, in Livonia, (between 7 & 8 mile), stopped to make a U-turn, and noticed the body lying in a ditch with his little red skateboard nearby.
The death had occurred sometime between 6 & 8 pm. Tim had been sexually assaulted, and his stomach contents showed that he had his last meal, (fried chicken), about 2 hours before his death. He had been bound about the hands and feet.
Oakland County had an active serial killer on the loose.
But what were the clues? Was there any evidence that could definitively tie all the cases together? Were there any suspects seen with the victims prior to their abductions? Were there any cars seen near the drop sites, or abduction sites, that could be connected, and hopefully lead to some resolution? Indeed, could anyone be brought to justice, and would this case be handled deservedly?
What about the footprints, and the tire-prints taken? What about the photos of the bumper impressions in the snow bank? Though this case began over 40 years ago, what about DNA in the modern era? Was anything found that could be tested, and perhaps solve this mystery once and for all?
The questions abound. These killings took place, (if you agree with the confirmed victims), over a 13 month period that terrorized the community I grew up in. And during the time I was growing up, it was an issue of concern. The boogeyman had come to Oakland.
In response to this, authorities launched the largest investigation of its time. With a task force of 200, and a budget of $2 million. What did this yield?
In our next article, we will discuss the suspects in the case of the 'Babysitter Killer', aka, the OCCK. We will discuss why these individuals became suspects, and the evidence that ties them to the case, or the lack thereof. Because there is a plethora of suspects, we will focus only on the strongest ones. What evidence ties who to the crimes?
This is a mystery. Unlike a movie, or a work of fiction, we cannot wrap this tragedy into a bow at the end, and make it all come together in a way that is suitable for all of us. The truth is, and we will reiterate this again, the killer has never been brought to justice.
Perhaps he has died, by suicide, murder, or natural causes. We will analyze this. Maybe he's incarcerated, or in a mental institution. Maybe he is not just one person. Most analysts and professionals would agree that killers like this don't stop; unless law enforcement or some outside force or occurrence stops them. There have been some that ascribe to the theory that serial killers burn out over time, and lose the urge to remain active. In this case, it was a fast-paced 13 month period of time. In the case of some serial killers, they can become dormant for years before reactivating. Has this occurred in this case? Does the evidence demonstrate that the killer is still out there, or does it point to something else?
We will discuss this and more, in the following articles of the series: "The Great Michigan Mysteries", brought to you by the CTG. For the "Cy-Times Gazette", this is J. C. Madhouse.